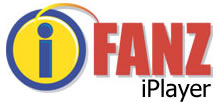 Thanks for clicking to get more information about the iFanz iPlayer©.
iFanz is run by musicians and so in light of various discussions about copyright issues, stalling players, bad sounding streams etc., we decided to build our own. It's in Flash so unless you click the download option to "yes", no one can steal your music.
Best of all, you can get the HTML code and paste the player on your space, your fans space or any other "space" you like.
With the iFanz iPlayer© you can:
Enjoy high quality, instantly streaming audio
Upload your MP3 files to our copyright safe environment
Select whether users can download the file or not
Add your lyrics and artwork
View real-time stats including plays, listens, download, etc.
Join iFanz and get your iPlayer today
Our terms and conditions for the use of this upload and streaming service are simply that we can't offer it to free accounts and the copyright/license issue is covered here:
Submissions :

By displaying or publishing ("posting") any Content, emails, messages, text, files, images, photos, video, sounds, profiles, works of authorship, or any other materials (collectively, "Content") on or through the iFanz servers, you hereby represent and warrant that: (i) you own the Content posted by you on or through the Services or otherwise the permission of the rights owner, and (ii) the posting of your Content on or through the Services does not violate the privacy rights, publicity rights, copyrights, contract rights or any other rights of any person. You agree to pay for all royalties, fees, and any other monies owing any person by reason of any Content posted by you to or through the Services.
You shall retain all copyrights. iFanz agrees not to re-publish, copy, or distribute your materials for film, television, commercials, jingles, compilations, CDs, DVDs or any other mechanical or royalty-bearing media without your prior consent and subsequent financial participation therein. In other words, we will NEVER release your music, video or pictures in any form which can make money without you being fully informed, involved and paid.
We hope you'll join the revolution. It's about music. It's about time!