Speakerz - Welcome eCommerce.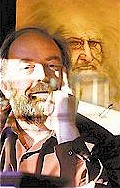 "The science of managing your own fan club has intrigued me ever since I first became aware of the concept a couple years ago. I work in two primary roles - first as the Executive Director of the DaVinci Institute, a Colorado-based futurist think tank, and second as a futurist speaker. The Institute serves as a center for the creation of visionary thought, and as a futurist speaker, my job is to use this "visionary thought" and entertain crowds with thoughtful and intriguing visions of the future. Over the past few years we have developed an international following, and this crowd loves to stay informed. iFanz has proven to be a tremendously valuable resource. It allows us to manage our base of followers and extend our overall influence in the "visionary thinking" marketplace."
Thomas Frey - Executive Director of the DaVinci Institute



iFanz can effectively grow your audience by developing your database. Once you collect data and demographics on your website via iFanz, you'll know what zip codes, cities and states contain your biggest fan base. Then you'll be able to plan tours, appearances, book-signings, in-stores, etc. in your most iFanz-centralized locations and then mailblast tens of thousands of emails at a time. You can even create a timed e-mail schedule or even blast by radius to specific zip codes.

If you have a speech or series of lectures you would like to offer on CD or DVD, we offer CD burns on demand. This means one order, one check or credit card transaction, one unit manufactured. No inventory. No fulfillment. No processing, we do it all for you.

Open Your iFanz Account Now!